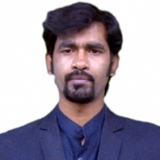 Hari Krishna Sagar has been involved in teaching, training, management for the past 8 years. His experience during his career involved the fields of teaching as an Aptitude Trainer in the field of Competitive Examinations Training – like CAT, CRT, GRE, GMAT, SSC CGL, BANKING, MAT, ICET Etc..,. Worked as Aptitude trainer for Andhra Pradesh State Skill Development and Corporation APSSDC in 2016-17, and Trained more than 1,20,000 students for different competitive exams and CRT. Trained in more than 80 Engineering colleges across the nation. He is also content developer for the Established institutes
He has a forte for inspiring people to learn with his dynamic presentation style. He enjoys connecting with people so as to bring out the best in them. His experience has spanned more than 8 years in the area of training and management and content developer as an Academic Director.
He established himself as one of the "Top Aptitude Trainer" in India with his way delivery style, it is easy and practical and logical Teaching in classroom.
His Digital classes are simply Mesmerize Students.