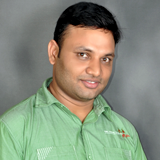 Mr. Nataraz (Natraj) also aliased as 'Java Natraj' by many students, is one of the leading Java trainer and has played a key role in building successful careers of over 1,00,000+ students in Java. His high passion towards teaching and deep reach-ability to any student helps to establish a great bond with students, resulting in simplifying the process of getting Job.
With over 10 years of experience in IT training on multiple Java skills like Advance Java, Struts, Spring, Hibernate, EJB, Real-Time Tools, etc (ranging right from ground level to the high extreme concepts)… and his IT work experience helps for providing best for the students. This not only helps student from perspective of getting a good Job but also in sustaining Jobs in highly competitive environment.
His research work and contribution to open source software is the added advantage which takes the class room learning to a whole new level. His continuous contribution to IT and a wide network of his trained Java Professions in IT, keeps his classroom content always up-to-date with latest market trends in IT.
He is an proven example of sincerity, dedication and punctuality over his entire training experience. There are a lot of incidents in which not only the Job seekers but also the Job providers are his old students, which results in quick bonding between the two.