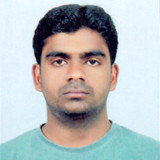 Mr. Srinivas is the young and dominating faculty in the industry having 4+ years experience. Leading faculty of "Data structures and Algorithms" in Ameerpet.
His approach is, designing and delivering the programs to improve employees' skills and knowledge so that the employees can make a greater contribution to a company's success".
He is familiar with the range of training tools and techniques, including workshops, classroom lectures, videos or presentations, online learning, training manuals, one-to-one coaching, and group role-play sessions.
He believes in collaboration. To deliver the best knowledge, collect the ideas from the seniors.
His best quality is, he is able to schedule sessions to meet a company's training priorities, and to make efficient use of time (taking fast track batches), training facilities and resources.