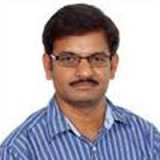 Java/J2EE Trainer
Hyderabad
Mr. Hari Krishna Bellam is a leading JAVA faculty having 18+ years of rich experience in teaching and as well as in development. He is a Oracle Certified Java Programmer with an experimental teaching and Mentoring. His Specialty is discussing the subject rather than teaching, he believes discussion makes students the best developers where as teaching makes students good listeners not developers.
His aim is to give quality, efficient, experienced programmers to Software industry with full of architectural design knowledge. He teaches every topic with project use cases to give confidence to students to work on real projects in their job.
Hari Krishna started his career as Java faculty, and worked for top MNC companies. He is continuing his career as a Java trainer to impart development knowledge to students with his teaching, since he is passionate about teaching. He emphasizes on Basic fundamentals to complete depth with internal architecture with the help of JVM architecture and design patterns by keeping the pupils into ease while giving the sessions.