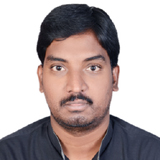 Sudhakar Landa is an accomplished software developer and teacher with over 12 years of experience in .Net, SQL Server, and Oracle technologies. With his passion for mentoring, he has helped numerous students become proficient and skilled programmers.
As a faculty member, Sudhakar Landa focuses on providing students with comprehensive knowledge of the basics and internal architecture using CLR architecture in .Net and DB design. He uses assignment use cases for each topic to ensure students are equipped with the skills and confidence to tackle real-world projects.
Sudhakar Landa has worked for top-tier companies and continues to inspire students through his passion for teaching.